Grow Calgary founder Paul Hughes has wanted the animals to be included in Grow Calgary's operations for some time, but under current Calgary regulations, he said that's not possible within the city.
Without electricity or running water, Grow Calgary officials face their first winter after expanding operations to include an animal rescue sanctuary at the Balzac site.
After a morning of dealing with frozen water lines, Grow Calgary founder Paul Hughes said growing vegetables has proven much easier than raising animals.
"Winter brings a lot of challenges because we don't have the energy and we don't have running water," Hughes explained.
There are plenty of hay bales, hay bales, and buckets of water running inside their newly built barns, but he said, at least the activity provides a good exercise.
"It makes us all fit for the farm, we call it the farm fit program. Come on and do the farm program," he joked.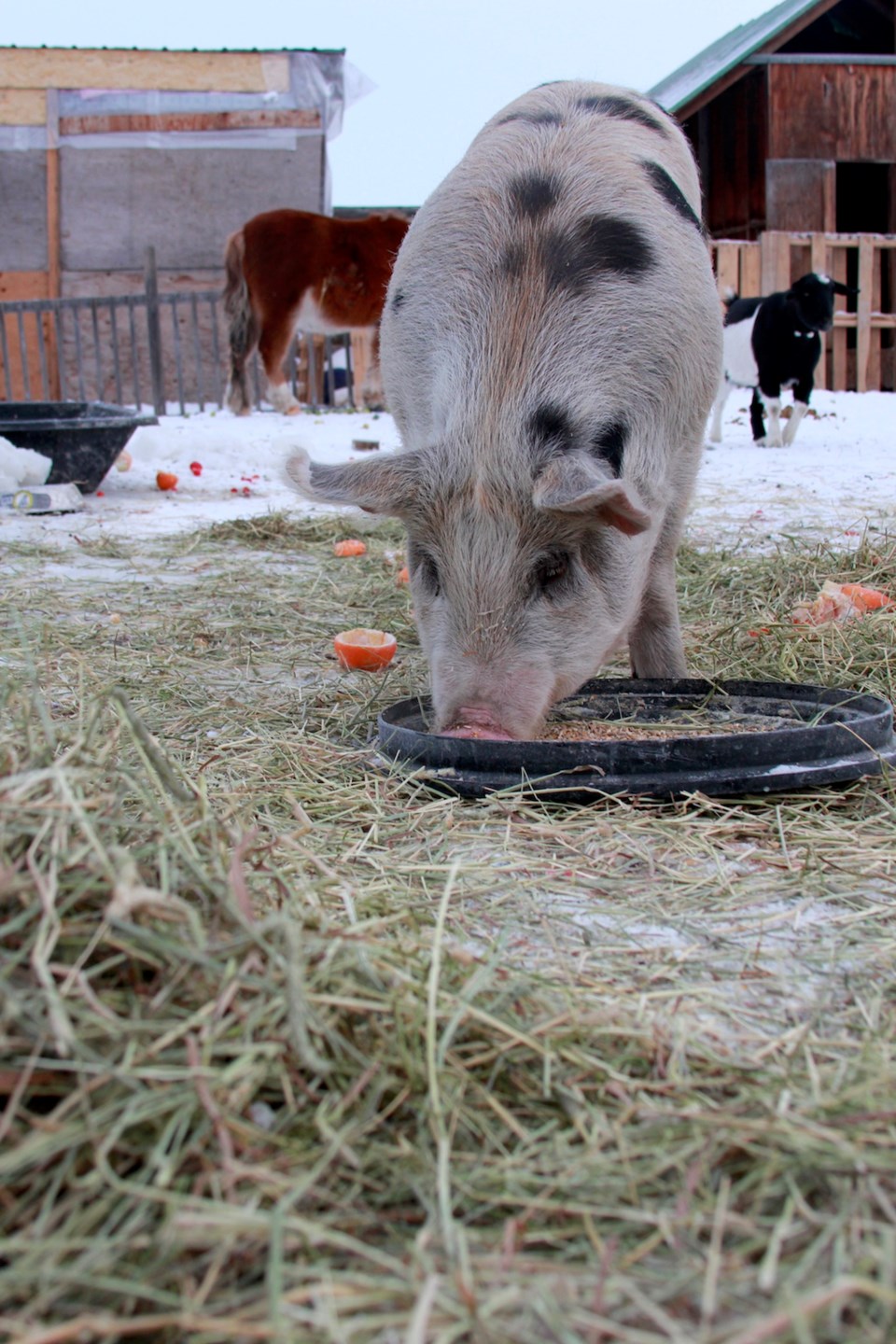 Grow Calgary is Canada's largest urban community farm, growing fresh produce for city social agencies through Food Access Programs.
The non-profit organization was founded in 2011 and saw its first harvest in 2013. Its goal is to ensure that all Calgary residents, especially those who are vulnerable and live in poverty, have access to healthy local food. All food is grown on their Balzac farm with the help of 40,000 volunteers since their inception.
Hughes has wanted to include animals in Grow Calgary's operations for some time, but under current Calgary regulations, he said that's not possible within the city. The City of Calgary bans any livestock within city limits, although it does offer an urban chicken program through its Livestock Licensing Program expected to launch in the spring of 2022.
"We couldn't do that in Calgary because of their very myopic approach to urban farming," Hughes said.
When Grow Calgary moved its operations to Balzac in June, Hughes said he took the opportunity to save his first farm animal – a 19-year-old drawing mare named Dally.
"We bought it for a dollar, she needed a new home. A lady was looking for a home in Lethbridge and she brought in Daly," said Hughes. "She was the cornerstone, the anchor animal for the mission of saving the whole farm animals."
Hughes said there could be thousands of animal rescue organizations to save the animals in Alberta, and he claimed Albertans have a dark underbelly when it comes to horses and factory animals.
"We slaughter hundreds of horses in this province every day," he claimed.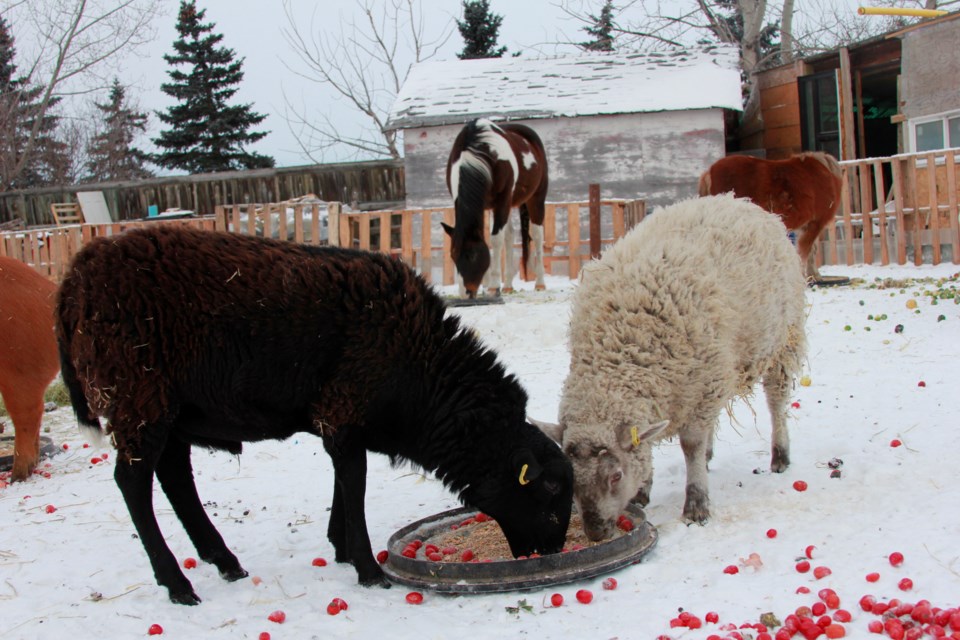 Higher hay and hay prices also lead to more animals entering the market. Rather than end up in the slaughterhouses, animals like Dally, Popcorn the lamb and several chickens named Henrietta and Ann Coulter are just a few of the nearly 50 animals now called Grow Calgary Farm.
"One thing leads to another. We have two chickens, a duck, a horse, some pigs, some goats, a little meat, and the next thing you know we have about 50 animals," Hughes said.
In all, there is room for 100 other animals on the farm, he said. The intent is for the animals that arrive at the farm to live the rest of their lives there.
The animals on the farm are also a great addition to the small farm management course run by Grow Calgary, according to Hughes.
Growing vegetables is one thing, he said, but raising animals on the farm adds a whole learning opportunity for the volunteers.
"Every animal has its own unique challenges, we always wanted to embrace our animal companions, our animal friends on the farm," he said.
The cropping season is over for now, and without the animals, there would be little work to do.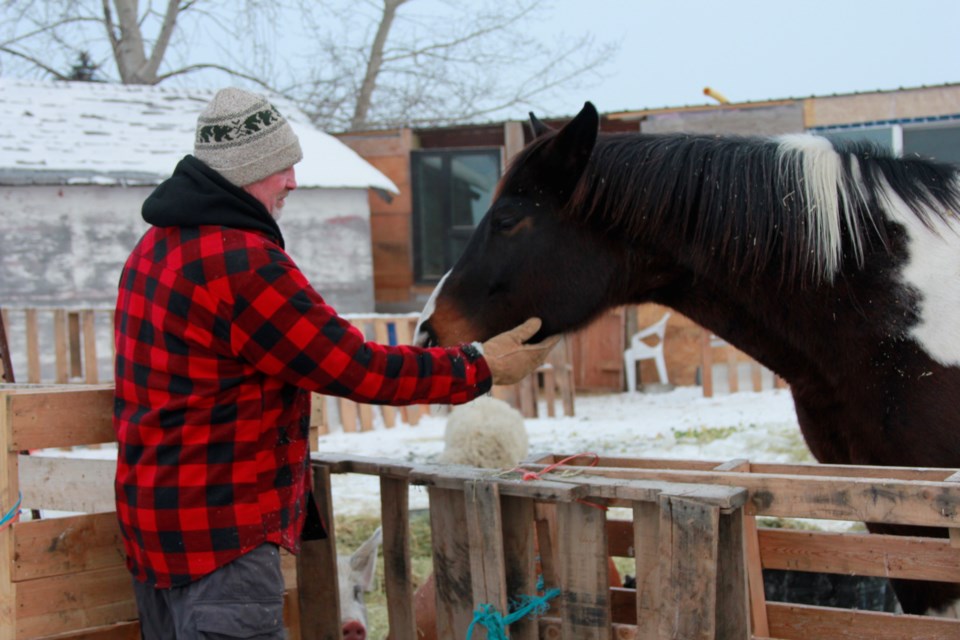 While animal husbandry doubles the work and responsibility on Hughes and the volunteers, he said it also added a lot of joy.
"It's so cool," he said, "I have a lot of respect for people who handle animals and farm animals."
"They all have such unique personalities and these are the animals we consume."
In particular, he pointed to two rescued pigs, Snowball and Old Major, who rocked their tracks excited to receive visitors.
"Snowball is crazy, he does 360 seconds, he runs and rolls and he's always so happy when people turn up."
Hughes said he is very happy with his new project, and added that the energy of animals is nothing like vegetables.
"[Vegetables] I can't give you that smile or ass and come see what you're doing," he said. "There are all kinds of weird little things we learn about with these animals.
"You can't get that from cherub tomatoes, not because I don't like cherub tomatoes, but the really neat moving part."